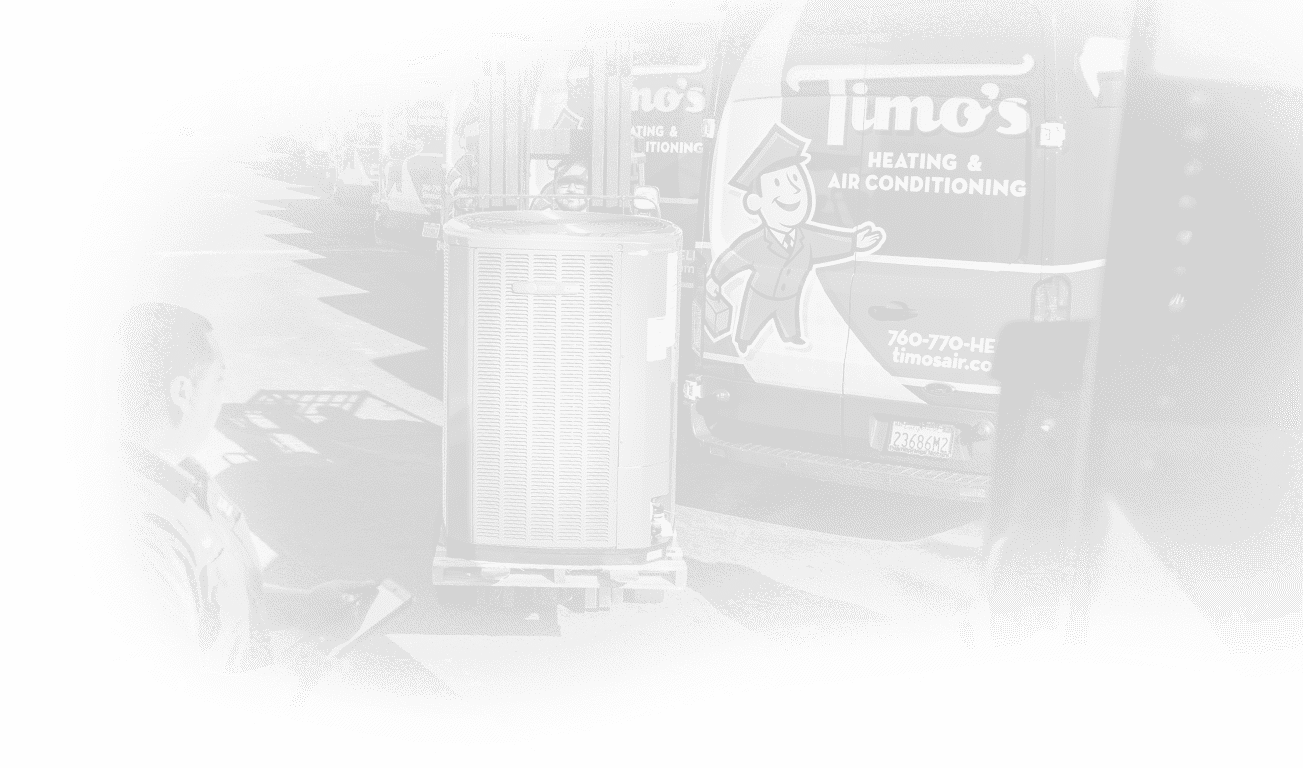 Indoor Air Quality & Filtration in Palm Springs & Palm Desert, CA
Is your home putting the health of you and your family at risk? Let Timo's technicians help you find out. Not only do we have the expertise to evaluate the quality of your indoor air, we also offer all of the services you need to remove any harmful contaminants and pollutants from your home, helping you attain a healthier and cleaner indoor environment.
Defend Your Home Against Indoor Pollution & Poor IAQ
Think your home is safe? Think again! Buried in your home's air are tiny particles that threaten your indoor air quality and, ultimately, your health. In fact, the Environmental Protection Agency (EPA) has found indoor air quality to be two to five times—and up to 100 times—more hazardous than outdoor air quality.
In newer homes, IAQ can be even worse. Although today's tightly sealed and insulated homes cut heating and cooling costs, they don't allow your home to "breathe." This traps pollutants and contaminants inside, eroding the quality of your indoor environment.
Our team at Timo's Heating & Air Conditioning can help you take back control of your home from these unwelcomed guests with our indoor air quality services and products.
Does Your Indoor Air Pass the Test?
What's in the air you breathe inside your home?
Here is why it's wise to have your indoor air tested: All of the household cleaning products, adhesives, disinfectant sprays, deodorizers, insecticides, paints and stains you use in your home spew pollutants into the air. Common indoor air problems include:
Secondhand smoke
Biological pollutants like mold, bacteria & viruses
Combustion & fireplace pollutants
Radon & asbestos
Formaldehyde & other chemicals
Dust & pet dander
Allergens & spores
If you suffer from asthma, lung irritation or upper respiratory conditions, poor indoor air quality may significantly impact your health. Why put the health of you and those you love in harm's way when air testing is simple and affordable?
While indoor air testing is a good idea for everyone, it is especially important for:
Chemically intolerant people
Severe asthma & allergy sufferers
Immune-compromised individuals
Families living in recently renovated homes
Homes with multiple pets
Homes with smokers
To determine what's in your air—and how to mitigate it—schedule an indoor air quality test with us. Once we identify the harmful pollutants or contaminants that are in your home, our NATE-certified technicians will use their expertise to recommend cost-effective options for IAQ improvement.
Cleaner, Healthier Air Is an Installation Away
Timo's indoor air quality products don't just clean the air you breathe, but the surfaces you touch, as well. Using the most advanced air filtration and decontamination technology, we can eliminate up to 98.9 percent of airborne particles and 99.9 percent of surface microorganisms from your indoor environment.
While duct cleaning is important to improve your indoor environment, many Southern California homeowners require specialized purification and filtration equipment to restore air quality and improve respiratory health.
At Timo's, our NATE-certified team designs and installs state-of-the-art indoor air quality products and systems that help you to breathe easy—year round. These include:
Indoor air cleaners
Air purifiers
Ultraviolet (UV) lamps & purifiers
UV purification systems
Indoor air filters
Indoor air filtration systems
Replacement filters & IAQ accessories
Our indoor comfort specialists will help you select the system that meets your specific IAQ and budget requirements.
Partnering With Timo's Is a Breath of Fresh Air
Now that you're aware your home's air can be filled with chemical vapors, pet dander, allergens, bacteria and other harmful material, it should be clear why you don't want to skimp on your home's indoor air quality. But why should you turn to Timo's experts?
Here are some advantages to partnering with us:
Whole-house comfort. IAQ systems work in conjunction with your existing air conditioner or heater, providing healthy, whole-house benefits.
Medical-grade purification. When necessary, Timo's can install air cleaners that meet hospital and medical requirements for clean air.
Odor mitigation. Say goodbye to musty odors, chemical smells and more. Indoor air cleaners eliminate many common smells in your home.
Reduced health risks. Residents suffering from allergies, asthma, immune condition, and other health problems may experience significant health benefits from indoor air quality systems. Air purification is also a good idea for homes that have been infested with vermin or pests, or homes that have a major dust and debris buildup in their ductwork.
If you suffer from respiratory or skin problems, notice odors in your home, live with a smoker or are concerned about infection risk, Timo's industry-leading air purification systems are well worth the investment in your health. To schedule no-obligation air quality testing or to request a free, no-obligation estimate for an air cleaner or an air purifier installation, call 760.475.9542 or contact us online today!
10% off all repairs
For all online customers.
Not valid with any other offer, must be presented at time of service, excludes Timo's preferred customer maintenance plans.